It was a beautiful day Monday Sept. 11th, as the sun shone down on the Savannah Horse Arena. Every year the riders from the arena work together and have a Tribute to America. This year Jim Bush started the program by welcoming eight riders carrying American Flags into the arena, riding to the music of John Wayne's Face the Flag.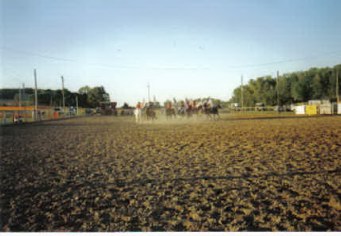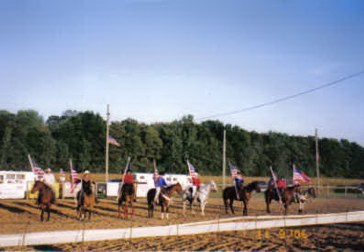 Betty Johnson and Mindy Soto were the first in with Jackie Johnson, Kelly Harper, Summer Onley, Roseanne Winter, Melody McCray, and Travis VanEtten following, with real nice display of the flags. Jim asked all to remain standing as Betty and Mindy rode to the National Anthem. Tammy VanEtten rode in carrying the British Flag for their National Anthem. Next on the program was our young citizens each carrying an American Flag headed up by Tracy Johnson.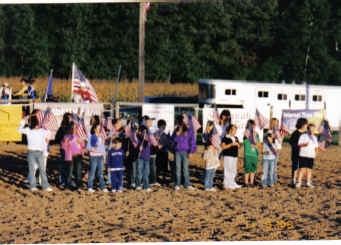 The youngsters walked into the music This Land is Your Land, all the youngsters then said the pledge together. It was awesome to see them waving the flags with pride. When they exited the arena the Savannah riders came in to Kate Smith's God Bless America. Their were many riders and many flags being held high and proud. It was a pretty site to see.
Melody MccRay and her horse Shorty, from Kissimmee Florida, a very talented couple did fancy trick riding showing their pride.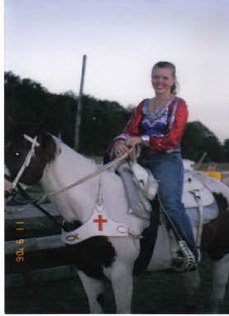 Jackie Johnson, Amber Lang, Wes and Zac Forshee, Joe Ticconi, Summer Onley, And Kate Farrelly came in riding , they were carrying the Army, Navy, Coast Guard, Marine, Air Force and the POW flags.The Military Hymn was playing to welcome the Savannah American Legion Veterans.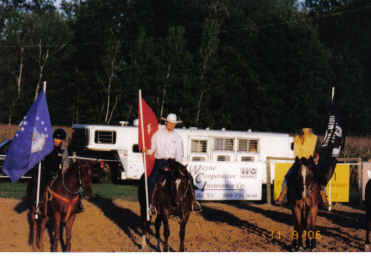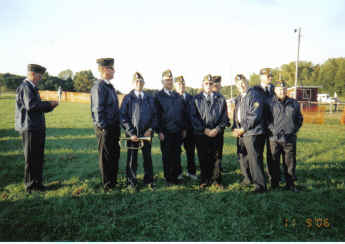 Next we saw Kelly Harper and Roseanna Winters carrying the Fireman's flag and the 9/11 flag to Diamond Rio's One More Day-a Tribute to the people that lost there lives in the tragedy five years ago. The Savannah Firemen and the Savannah Auxiliary entered the arena.
At this time Jim Bushed asked all to look over there shoulders To the west for the raising of the flag. Jeremy Barnes, Ryan Merit, and Scott Kolczynski in full turn out gear, along with Terry Colvin marched up the hill to a drum beat, to the flag pole. The 3 fireman raised the flag. Terry Colvin played the taps.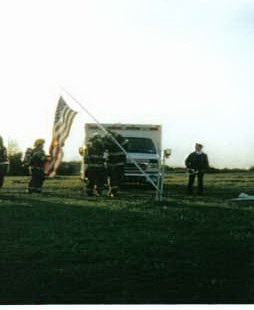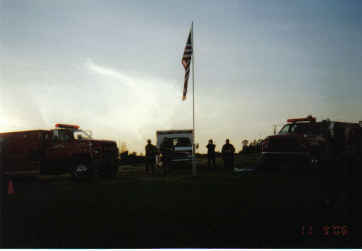 Red, White and Blue balloons were released for all fallen comrades. Melody reentered the arena with shorty and did the Liberty Stand, Carrying the American Flag for all American's today.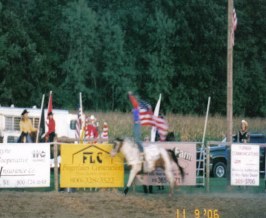 This was a very emotional tribute, 2006, thanks to all volunteers that made this one of the best.