Join us!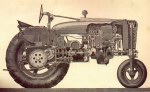 or write to the Savannah Chamber of Commerce, P.O. Box 66, Savannah, N.Y. 13146.
New York State Horse Council offers barrel races all year. Horses that qualify will have the opportunity to race for the $3000.00 purse at the New York State Fair. Horse Council barrel races will be held at the Potato Fest Arena this summer. For more information on the Horse Council visit their web page at
http://www.nyshc.org
.
The web page address for Interlaken is www.lakecountryhorsemens.com They do a great job for the whole family, plus a Junior Rodeo in July